Dyson chooses Singapore for new electric car plant

Business Business Dyson chooses Singapore for new electric car plant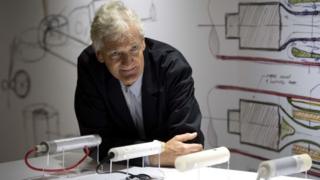 Dyson, the UK-based company best known for its vacuum cleaners, has chosen to build its new electric car in Singapore.
The company will break gr ound on its new factory in Singapore later this year with the first car scheduled to roll off the production line in 2021.
Dyson said the decision was based on the availability of engineering talent, regional supply chains and proximity to some key target markets.
Cost was not a consideration.
Singapore is one of the most expensive territories in the world to do business and space for manufacturing is at a premium in the city state.
Dyson gears up for electric car testing
Dyson creates 300 electric car jobs
The company has previously said it will commit £2bn to the project, including £200m to be spent in the UK on research and development and test track facilities - much of which has already been spent.
Dyson insisted the decision to locate production in Asia, rather than the UK, had nothing to do with Brexit.
New institute
Although there may be some disappointment that car manufacturing wil l not be coming to Malmesbury in Wiltshire, Dyson doesn't currently manufacture any of its products in the UK, so this decision is no real departure from that pattern.
Dyson is given credit for tripling its UK workforce to 4,800 over the last five years and founding a new engineering institute on the site of an old air base which it has renovated.
The company currently has 1,100 employees in Singapore, 1,300 in Malaysia, 1,000 in China and 800 in the Philippines.
Dyson has not yet revealed what kind of batteries its new cars will use, or where they will be made.
It recently wrote off £46m pounds o f its investment in American solid state battery development company Sakti3 - which it bought in 2015 for £58m.
Industry experts say that solid state batteries - which can potentially be charged faster and hold a greater charge for longer - are still in an experimental phase. Dyson continues to develop both solid state and traditional lithium ion batteries in parallel.
Brexit issues
The company's founder, Sir James Dyson, has been a prominent advocate for Brexit and recently insisted that the UK leaving the EU with no deal would "make no difference".
Brexit: Jaguar boss issues stark warning for jobs and profit
Toyota says no-deal Brexit would stall production at Burnaston
His critics say this approach is because his company is less vulnerable to the same problems as other car manufacturers, who have supply chains that include components that cross between the EU and the UK many times.
Several major manufa cturers, including BMW, Airbus and Jaguar Land Rover - who manufacture in the UK - have recently sounded dire warnings about the impact of a no-deal Brexit on UK investment.
Top Stories
Khashoggi murder 'planned days in advance'
Turkey's president says the writer was killed in a "savage way" and demands the Saudis explain.
23 October 2018
Sandra Day O'Connor retires over dementia
23 October 2018
US markets pick up amid global sell-off
23 October 2018
Features
Video
How Americans think Trump affects their life
The places where too many are fat and too many are thin
Why did this lioness kill her male partner?
Video
Trump and the facts about the migrant caravan
The harassment tips you shouldn't need in 2018
Images of autumn around the world
Pastor's televised rape trial shocks South Africa
BBC Travel: What we can learn from Japan about imperfection
Video
AI painting to go under the hammer
Elsewhere on the BBC
Football phrases
15 sayings from around the world
Full article Football phrases Why you can trust BBC News
BBC News Services
On your mobile
On your connected tv
Get news alerts
Contact BBC News
Source:
Google News Singapore
|
Netizen 24 Singapore